Surgeon uses state-of-the-art 3D printing and photography to create new nose for 30-year-old woman who suffered severe headaches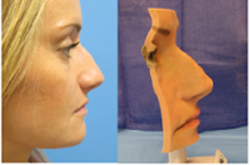 NEW HYDE PARK, NY – This is one birthday that Amanda Faraglia, of Long Beach, LI, will never forget.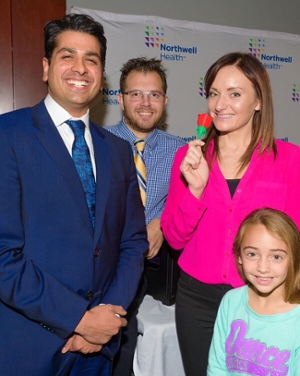 Thanks to the latest in medical technology, Ms. Faraglia, 30, will be able to celebrate her birthday on October 26 free of the blinding headaches and sinus pain that have plagued her for years. And, just as important, she is looking forward to sporting her new face and a new attitude.
During a meeting held at Long Island Jewish Medical Center, Ms. Faraglia met up with her surgeon, Neil Tanna, MD, (pictured left) associate program director of plastic and reconstructive surgery, Northwell Health, to enjoy an early birthday celebration. Joined by Todd Goldstein, PhD, (pictured center) project manager and recent graduate of the Hofstra Northwell School of Medicine, they also discussed the cutting-edge technology that was used by Dr. Tanna to design Ms. Faraglia's new nose.
"I was just tired of living with these constant headaches and I was ready to consider surgery," said Ms. Faraglia. "When I finally connected with Dr. Tanna, I was just amazed by the 3D technology. I was actually able to hold a real-life version of what would be my new nose."
That wasn't the only surprise. An MRI ordered by Dr. Tanna, associate professor at Hofstra Northwell, revealed that Ms. Faraglia was living with a deviated septum and a fractured nose from an injury she suffered as a toddler. Now that he had all the necessary information, Dr. Tanna began to plan his surgical strategy.
During their discussion, Dr. Goldstein printed a model of the new nose in real time. "When Dr. Tanna is planning surgery for a patient's nose, he is able to either take a 3D scan of the patient's face or utilize standard photograph," said Dr. Goldstein. "The images are imported into a surgical planning software where the procedure can be 'simulated,' yielding the potential outcome. We are then able to 3D print the before and 'simulated after' models in color for both the patient and the physician to see, hold and feel."
From the surgeon's point of view, the use of 3D technology removes the last bit of guesswork and helps to ensure a more satisfactory outcome for both the doctor and patient.
"Not only can I guide my patient through the surgical journey with greater certainty prior to the operation, but I have a 3D model to consider while I'm performing the surgery," said Dr. Tanna. "Before this technology, we worked from standard photos and our own understanding of what needed to be done. Having a 3D model right next to me as I'm operating is an incredibly exciting tool."
The August 23 surgery took less than three hours. After two weeks, Ms. Faraglia reported that she was completely pain-free – no more headaches or problem sleeping.
To celebrate her new face and her upcoming birthday, Drs. Tanna and Goldstein presented Ms. Faraglia with a freshly-printed rose. As he posed for photos with her birthday gift, Dr. Tanna said proudly, "We went from noses to roses … a great way to help Amanda kick off her birthday in style."
Photos and video clips, including interviews and B-roll from the event, are available. Click here to download.