As MSPP grads leave for freshman year of college, an alum returns for the first year of med school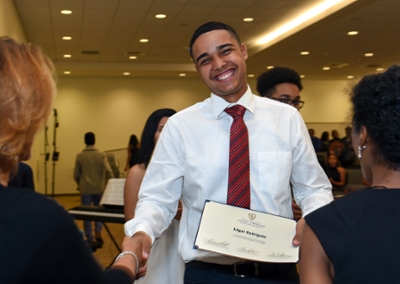 Pipeline scholar, Edgar Rodriquez, is all smiles as he receives a certificate at the MSPP closing ceremony.
Hempstead, NY— The Hofstra Northwell School of Medicine celebrated the completion of its seventh Medical Scholars Pipeline Program (MSPP) at a spirited closing ceremony held on July 21.  The summer-long program, running from June 27 through July 21, was comprised of nearly 60 students from underserved areas in Queens and Long Island.
This year's MSPP closing festivities featured an inspiring keynote address by Louis Auguste, MD, FACP, clinical professor of surgery at the School of Medicine and surgical oncologist in practice for nearly 35 years at Northwell Health.
"Because of your hard work, your determination, and because you have chosen to seize every opportunity to better yourselves," said Dr. Auguste, a native of Haiti, "make no mistake about it—you will be the leaders of tomorrow, you will be the agents of change."
The School of Medicine's pipeline program is a four-year, four-week summer initiative at the School of Medicine designed to expose high-achieving minority high school students to careers in the healthcare professions.  Thanks to ongoing support from the Pinkerton Foundation, including a $50,000 grant renewal for a third consecutive year, 2016 MSPP students participated in information sessions and campus tours at Hofstra University and Stony Brook University, and enjoyed an educational excursion to the Oyster Bay Marine Education Center. Students also served as volunteers in the PEACE (Patient Engagement and Communication Enhancement) program at the Long Island Jewish Medical Center, and participated in a new initiative in collaboration with Northwell Health's Monter Cancer Center designed to teach communication skills and ways to connect with patients dealing with cancer treatment and chronic illness.
"In medicine, sometimes as professionals we fall into the trap of seeing someone as an illness and not as a person," said Joseph Weiner, MD, professor of psychiatry and program facilitator. "When we engage with a patient as a person, as a whole—our care, communication, and connection with the patient flow better."
While at Monter Cancer Center, MSPP students were paired with cancer patients and their loved ones who spoke candidly about their current challenges and personal histories, with many sharing life lessons and words of wisdom.
"Talking with cancer patients opened my eyes to the other aspects of medicine," said Edgar Rodriguez, a second-year MSPP student, "It's not about being a doctor, nurse, or PA—it's about people who make another life better in any way they can."
On campus at the School of Medicine, the young scholars expanded their healthcare knowledge during interactive lectures with School of Medicine faculty and Northwell physicians; learned about anatomy through fitness training; studied techniques, tools, and approaches to patient care; and made critical connections with mentors in various professions and all walks of life.  First-year scholars also became CPR/AED certified, while high school junior and senior students received academic assistance from a professional college consultant and completed P/SAT test prep courses.  Rising college freshmen rounded out their MSPP experience by completing a Mini Medical School based on Hofstra Northwell's innovative curriculum called Patient Explorations in Active Learning Reason and Synthesis (PEARLS), a student-driven class that uses problem- and case-based learning scenarios as a forum for active reasoning, collaboration, and discussion.
"The experience is priceless for students preparing for the next phase of their education and life," said Gina Granger, MA, associate director of special programs and alumni relations at Hofstra Northwell. "They feel confident and ready for the challenges ahead."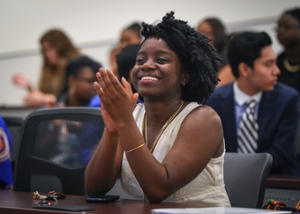 In fact, this year's MSPP graduates include 13 students that will head off to studies this fall to elite institutions such as Vassar College and Dartmouth College.  These rising freshmen and aspiring healthcare professionals plan to follow the lead set forth by MSPP alum, Britney Nathan (photo left), who is returning to the Hofstra Northwell School of Medicine as a first-year medical student.
"I applied to many [medical] schools and had a decision to make about which school I would attend," said Miss Nathan, a Hofstra University graduate and among the first students to complete Hofstra Northwell's Medical Scholars Pipeline Program. "I remembered the relationships and nurturing mentors that I gained during my five-year exposure to this institution–and I knew that I just could not leave."
For more information about the Medical Scholars Pipeline Program, please visit medicine.hofstra.edu/about/diversity/diversity_pipeline.html or contact Gina Granger at 516-463-7550.
About The Pinkerton Foundation
The Pinkerton Foundation is an independent grant-making organization founded by Robert Allan Pinkerton, the Chairman and CEO of Pinkerton's, Inc., one of the nation's oldest and largest security companies. Established in 1966, the Pinkerton Foundation supports community-based programming that combines capable leadership, engaging activities, mentoring by caring adults, and academic training to further economically disadvantaged students in New York City.