Original artwork by healthcare professionals and medical students on display through May 11
Nearly 100 people were in attendance at "A Celebration of Visual Art," an exhibit held at the Hofstra North Shore-LIJ School of Medicine on April 21, 2015, that showcased original artwork created by School of Medicine faculty and students, as well as a pre-med undergraduate student from Hofstra University and physicians, nurses, healthcare practitioners and staff members from throughout North Shore-LIJ Health System.
The art exhibit, organized by The Osler Society of the Hofstra North Shore-LIJ School of Medicine, will be on display at the medical school through May 2015—a month highlighted by the School of Medicine's first commencement ceremony of its charter class.
"The art show is a wonderful outlet for our students, faculty, and healthcare professionals to share their passion for art and creativity," said Lawrence Smith, MD, MACP, dean of the School of Medicine. "It's an opportunity for self-expression and a chance to tap into hidden talents."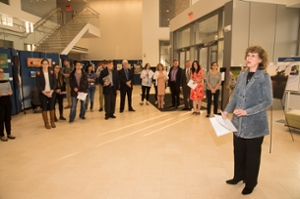 Including 45 works on display by 31 different artists, the exhibit consisted of photographs, oil paintings, pastels, pencil drawings, digital paintings, collages and sculpture. Lending creative insight was expert Beth Levinthal, executive director of the Hofstra University Museum (pictured, right), who spoke about the connection between art and medicine, and how art can make for better (and happier) doctors. She also juried the art show after which she gave special recognition to eight outstanding works.
Three prizes were given to the artists who created the works that won the titles: Best in Show, Second Place, and Third Place.The top three award winners were Mark Welles, MD, assistant professor of pediatrics at the School of Medicine; Michael Spigner, third-year medical student, School of Medicine; and Patricia Gaignat, North Shore-LIJ Laboratories. For a complete list of winners, click here.
"It was impressive to see the wide variety of subject matter and artistic mediums that were represented in the exhibition," said Ms. Levinthal. "I was quite pleased to serve as the first juror of this event, particularly representing the Osler Society Advisory Committee and the Hofstra University Museum."
Exhibit guests were also treated to a live musical performance of the song Beautiful, by first-year medical students Justin Pereira and Joo-Hye Christine Park, who sang a duet accompanied on keyboard by Kan Chen, also a first year medical student.  The song was particularly poignant because it is about viewing artwork and seeing beauty in ordinary things (view video, above).
"We are very fortunate to go to a medical school that encourages us to learn more about the practice of medicine through art," said Mr. Pereira. "At this event, we performed a song about the power of art to enrich human connections, which I think perfectly encapsulates the purpose of the Osler Society at the School of Medicine."
For more information about the visual art exhibit sponsored by The Osler Society of the Hofstra North Shore-LIJ School of Medicine, please contact Lisa Martin, coordinator, humanities in medicine program, at 516-463-7389 or Lisa.B.Martin@hofstra.edu.