A year of firsts and festivities includes the grand opening of a new facility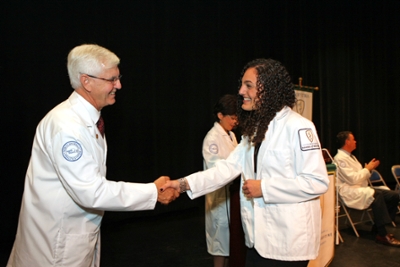 Photo: Dr. Smith congratulates Class of 2015 student, Christina Scelfo, during the first White Coat Ceremony at the School of Medicine in 2011.
At the Hofstra North Shore-LIJ School of Medicine, preparations are underway to commemorate a year of pivotal progress and achievement, starting with the grand opening ceremony of the new school of medicine building on Monday, March 2.
"We are very excited to take this next step toward becoming a premiere teaching center in medicine," said Lawrence Smith, MD, MACP, Founding Dean of the School of Medicine. "The opening of our state-of-the-art facility, complete with the latest in educational tools and medical technology, is a symbol of our fast-growing reputation, influence and progress."
Following the grand opening of the new facility, soon-to-be resident physicians at the School of Medicine will learn where they'll spend the next several years of medical training during the institution's 
first Match Day, on Friday, March 20,
 a traditional rite of passage for medical students. Match Day occurs on the third Friday of March each year at medical schools across the United States where the results of the 
National Resident Matching Program 
are announced. By entering the Match system, applicants are required to research, interview, and identify the programs of interest and rank in order of preference, but there is no guarantee that a student will receive his/her top-list program. Applicants are obligated to enter the residency program at the institution to which they are matched.
"Match Day is really the culmination of four years of intense study, focus, and hard work for students," said Veronica Catanese, MD, MBA, Vice Dean and Dean for Academic Affairs.  "It is an emotional time but we are confident that our students will be satisfied with their results, and will look ahead to the future with great anticipation and excitement."
A few residency programs announce match information to prospective residents earlier than the standard date, allowing some students to meet their match sooner than later.  In fact, fourth-year medical student Christina Scelfo (pictured with Dr. Smith), learned in January that she will be heading to her first-choice institution for a residency in ophthalmology–a program that will commence the year following her internship that has yet to be revealed in March alongside her ready and waiting classmates.
Once a match is made, the School of Medicine students, faculty and staff will set their sights on Monday, May 11–graduation day for the School's inaugural class. "In just seven years, we have been able to establish a new model for medical education and training the next generation of healthcare professionals, and it's working." said Dr. Smith, "None of which would have possible without the collaborative efforts of our dedicated faculty and staff who continually raise the bar for teaching the next leaders in medicine."