The Osler Society kicks-off another year of inspired programming

Faculty, students, and visitors enjoy the Beyond the Diagnosis art exhibit presented by the Osler Society on Nov.7
The Osler Society of the Hofstra Northwell School of Medicine set the stage for the 2016-17 academic year with a wide array of theater, narrative and artistic events that serve to illuminate and educate. An integral part of the Humanities in Medicine curriculum at the School of Medicine, the Osler Society is a forum dedicated to pursuing the humanities among healthcare professionals of all levels, including students.
"These programs aim to teach the important tools necessary for healing from a different lens, whether it be art, music, theater, literature, history or poetry," said Lisa Martin, JD, coordinator for Humanities in Medicine at Hofstra Northwell. "Through participation in events, health professionals and medical students learn to see more than the disease and the science; they learn to view and understand their patients as whole individuals with hopes, dreams, talents and struggles."
Programs and events sponsored by the Osler Society at the School of Medicine are free of charge and open to the public.
When Art Imitates Life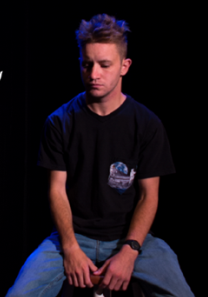 On October 6, 2016, the Osler Society ushered in the first of many programs for 2016-17 at the School of Medicine with "Breathe. A True Story," a one-act play based on the life of 25-year-old Brennen Reeves (photo right), also the sole actor in the production. The show chronicles Brennen's birth to present battle with cystic fibrosis (CF), a genetic disorder that causes excessive and dangerous buildups of mucus in the lungs, pancreas, liver, kidneys and intestine.
For many children diagnosed with CF, life expectancy is short. In fact, Mr. Reeves wasn't expected to survive past his eighteenth birthday unless he received a double lung transplant. "Breathe" recounts his experience, difficulties, and the decision to have surgery with an uncertain outcome.
"Breathe is an honest, humorous, and raw look at coping with chronic illness and mortality," said David Lee Nelson, a playwright, comic, and creator of Brennen's one-man show. "It is said that life imitates art—in this case, art imitates life."
In an unexpected twist of reality, Mr. Reeves, who traveled from Charleston, South Carolina, to perform at the School of Medicine, became ill and was hospitalized in New York City for issues related to his condition.  Realizing that the show and his message must go on, Mr. Reeves asked Mr. Nelson to step into his role. Mr. Nelson responded with a poignant performance.
"The act humanized the illness and gave an incredible window into what the experience is like for the patient, an invaluable lesson for someone in my shoes," said Mustafa H. Ghanem, MD-PhD student in attendance. "This was not just theater…it was solid medical education."
Mr. Nelson's riveting rendition of "Breathe" was followed by a talk given by Joan DeCelie-Germana, MD, director, Pediatric Cystic Fibrosis Center Cohen Children's Medical Center at Northwell Health, in addition to a question and answer discussion with patients and their families coping with the disease. But the show didn't end there.
Eager to get back in action, Brennen has recovered from his sudden setback and hopes to return to the School of Medicine for a special encore performance of "Breathe" next spring.
From Medicine to Manuscripts
The Osler Society also hosted a narrative in medicine event on October 18 featuring Daniel Reinharth, MD, FACP, clinical assistant professor of medicine and author of the "Dr. David Calder Mystery" series, including the books "First Do No Harm" and "A Catskill Slay Ride."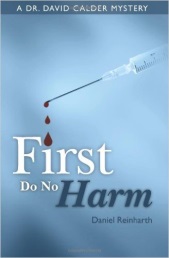 During the presentation, Dr. Reinharth reflected on his writing and its essential link to medical practice.
"Writing has enhanced my doctoring," said Dr. Reinharth. "The need to put oneself in the heads of characters promotes observation skill, empathy, and a holistic view of people.  It has helped me see beyond my patients' immediate health concerns, and view their illnesses in the contexts of their multi-layered lives."
In addition to an informative talk and book signing, Dr. Reinharth's literature was brought to life through a reenactment of a scene from "First Do No Harm" by members of the Osler Society Theater in Medicine.  From aspiring playwrights to actors, the company is comprised of School of Medicine faculty, medical students and healthcare professionals brought together by a shared interest in performance art.
"It's a terrific outlet in which to explore creativity," said Michael Jin, a second-year med student who joined the theater group last year. "I appreciate the opportunity to merge my studies with interests outside of medicine."
Powerful Patient Imprints
Osler Society events for the fall season were capped off with a moving medicine in art exhibit at the School of Medicine and The Feinstein Institute for Medical Research.
Curated by the Rare Disease United Foundation (RDUF), Beyond the Diagnosis: Art Exhibit and Rare Disease Programis a two-part series featuring a collection of beautiful works depicting rare disease patients.  With the goal of increasing awareness of genetic disorders, the exhibit travels to medical schools, research institutes and hospitals around the globe to encourage the healthcare community to look "beyond the diagnosis" to the patient. Artwork displayed by RDUF at the School of Medicine and the Feinstein Institute was sponsored in collaboration with the Osler Society.
Beyond the Diagnosis: Part One, held on November 9 at the School of Medicine, featured a unique painted portrait collection followed by an expert talk and question-answer session with patients with Prader-Willi Syndrome, a genetic disorder characterized by behavior problems, intellectual disability, and short stature. During the program, a Prader-Willi patient shared his passion and talent for the violin with participants (pictured right).
On November, 17, Beyond the Diagnosis: Part Two was hosted at the Feinstein Institute. The display included portraits alongside research posters created by graduate students of the Elmezzi Graduate School of Molecular Medicine.  Presentations covered Williams Syndrome, a genetic disorder characterized by cardiovascular disease, developmental delays, and learning disabilities, and Duchenne Muscular Dystrophy, a condition characterized by progressive muscle degeneration and weakness.
"What a privilege it was to attend the program," said Judith Brenner, MD, associate dean for curricular integration and assessment at the School of Medicine, "the exhibit was incredible from everyone's perspective–educators, patients, family members, students, and physicians."
For more information about upcoming Osler Society programs at the School of Medicine, please email SOMOsler@hofstra.edu or visit www.medicine.hofstra.edu/about/osler.