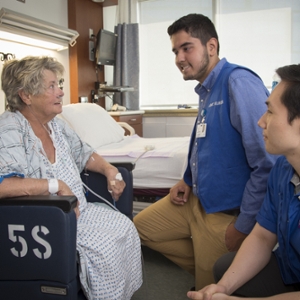 MSPP students visit a patient who is happy to enjoy company and conversation
NEW HYDE PARK, NY –Anyone who has ever spent time in a hospital knows it can be the loneliest place on Earth. That's why students from the Hofstra Northwell School of Medicine's Medical Scholars Pipeline Program joined forces with the Volunteer Department at Long Island Jewish (LIJ) Medical Center to create a partnership that benefits both patients and students alike.
The Pipeline Program was launched by the medical school in 2010 with the goal of introducing young people to various healthcare professionals. For students coming from economically challenged backgrounds, the month-long summer session is the ideal way to introduce them to potential careers in medicine and help them become competitive future applicants to medical schools and health care professions.
"According to the US Bureau of Labor Statistics, just 6.4 percent of US physicians and surgeons were African-American in 2015," said Gina Granger, director of special programs and alumni relations at the Hofstra Northwell School of Medicine. "We are so happy to be able to offer these extraordinary young people a chance to explore their interest in health care. Over the past six years, 80 students have participated in the Pipeline Program. All have gone on to college, at such institutions as M.I.T. (Massachusetts Institute of Technology), Harvard, Johns Hopkins, Columbia, Yale, Hofstra, Emory and the US Naval Academy. And, we're especially proud of the fact that seven Pipeline students have already started their medical school journey," she said.
As part of their education, 15 Pipeline students on Wednesday visited LIJ patients through the hospital's PEACE (Patient Engagement and Communication Enhancement) program, which is designed to offer companionship to patients who do not regularly receive visits from family or friends.
One of the students was Pablo Correa (pictured center, above), 17, of Hempstead, NY. Born in Columbia, he came with his family to the US when he was just four years old. Since his birth, his mother's one wish was that Pablo become educated and use his knowledge for good. Clearly, her wish was granted.
He recently graduated from high school with a 98.6 GPA (very appropriate for a future doctor) and is planning to enter Dartmouth in the fall (with a full scholarship). His time in the Medical Pipeline program, he says, has solidified his intention to pursue a career in medicine.
"We visit with them, ask them how they're doing, and offer to bring them something they might need, like a book or an extra blanket. Obviously, we can't provide medication but we are able to help them through conversation. They are not just cases to us…they are human beings. This program has taught me so much about people, and I intend to remember everything I've learned here when I become a doctor," he said.
Lauren Vasquez, of LIJ's Volunteer Department, supervises the students when they arrive at LIJ and arranges for them to make rounds with the patients. From her perspective, the partnership between the Medical Pipeline Program and the PEACE program is a win-win for all. "These are incredibly intelligent and caring students who are learning what it means to meet patients in their most vulnerable conditions," said Ms. Vasquez. "We are so honored to have them working with us. The feedback from our patients is always the same—they are delighted to chat with these dedicated students. We all wish them well in their future careers."
Learn More, See News Coverage:  FIOS1 Long Island