New program provides trainees with mentored primary care experience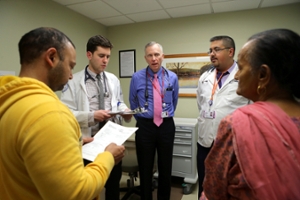 IMPACcT offers team-based clinical training experience in caring for a diverse patient population.
Hofstra Northwell School of Medicine is proud to offer the IMPACcT ("Improving Patient Access, Care, and Cost through Training") Primary Care Experience, a program that provides trainees with a mentored primary care experience integrating education and clinical skills instruction. The ultimate goal of IMPACcT is to focus on patient-centered care, quality improvement, and population health in an interprofessional team-based setting.
With an emphasis on expanding the primary care workforce and advancing best practices, the four-year program is designed for trainees with an interest in receiving enhanced exposure to ambulatory medicine. Trainees receive expanded primary care education on nationally-recognized high-priority primary care topics, an interprofessional and team-based clinical training experience in caring for a diverse patient population, and one-on-one career mentorship from a dedicated general internal medicine faculty member.
The IMPACct program brings together trainees from four clinical professions: medicine (residents and medical students); physician assistants; pharmacy; and psychology. In addition to interprofessional education and clinical care exposure, participants will have opportunities to participate in quality improvement projects, research projects, and curricular design. Currently, 11 second-year medical students and seven in their third year will be joining the program in 2016.
"We are seeking to develop innovative ways to train primary care internists using an integrated team model," said Joseph Conigliaro, MD, MPH, IMPACcT program director and professor of medicine at Hofstra Northwell.
The program was organized thanks to the support of a $1.7 million grant from the US Department of Health and Human Services Health Resources and Services Administration (HRSA). In July 2015, HRSA announced more than $94 million in awards to ready the next generation of health care providers, including support for education and training to enhance health care delivery and improve access to high-quality care. Grant awards were dispersed throughout 11 programs, including the Primary Care Training and Enhancement Program, which funds 32 new grants to hospitals, medical schools, academically affiliated physician assistant training programs, and other entities to improve the quality, quantity, distribution, and diversity of the primary care workforce.
Hofstra Northwell partner institutions involved in IMPACcT program development include the Hofstra Northwell School of Graduate Nursing and Physician Assistant Studies and three other New York-based institutions.
"It is about learning to communicate," said Dr. Conigliaro, "sharing information and partnering with healthcare providers of all levels and settings to ensure best practices, patient satisfaction and safety."
For more information about our latest initiative in primary care, click IMPACcT program and/or download the flyer.