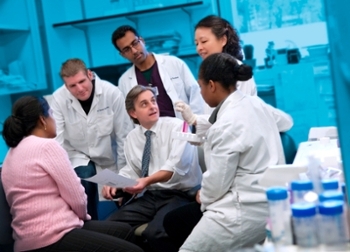 Kevin Tracey (center) wins Shock Society scientific achievement award.
MANHASSET, NY – The Feinstein Institute for Medical Research's President and CEO Kevin J. Tracey, MD was awarded the Scientific Achievement Award at the 39th Annual Conference on Shock during a ceremony at the Annual Conference on Shock held from June 11 to 14.  The Shock Society award, which recognizes lifetime achievements in the field of shock research, is being presented to Dr. Tracey for his discoveries in shock, inflammation, sepsis and bioelectronic medicine.
The award was given during dinner ceremony at 7 p.m. on June 14.
"I am grateful and honored to receive this award from the Shock Society," said Dr. Tracey. "Sepsis and shock are lethal syndromes and significant new therapies are needed. The Shock Society's efforts to advance this work is important to the health of the nation and internationally."
Ping Wang, MD, incoming president of the Shock Society, who is also chief scientific officer at the Feinstein Institute, said "Dr. Tracey is a pioneer in inflammation research – he discovered the molecular mechanism for the neural control of inflammation, now termed the inflammatory reflex. And he continues that research today through a field he pioneered, bioelectronic medicine, working to replace anti-inflammatory drugs with devices."
In addition to serving as president and CEO of the Feinstein Institute, Dr. Tracey is associate dean for research and professor of molecular medicine and neurosurgery at the Hofstra Northwell School of Medicine. He is a leader in the study of the molecular basis of inflammation. He and his colleagues identified the neural mechanism for controlling the immunological responses to infection and injury, and developed devices to replace anti-inflammatory drugs that are currently in European clinical trials, making him a pioneer in bioelectronic medicine.
The recipient of numerous awards and honors, including an honorary degree from the Karolinska Institute, Dr. Tracey is a fellow in the American Association for the Advancement of Science, and a member in the American Society for Clinical Investigation and the Association of American Physicians. He is co-founder and councilor of the Global Sepsis Alliance. He graduated summa cum laude from Boston College, majoring in chemistry, and received his MD from Boston University. He trained in neurosurgery at the New York Hospital/Cornell University Medical Center, and was guest investigator at The Rockefeller University. Dr. Tracey delivers lectures nationally and internationally on inflammation, sepsis, the neuroscience of immunity, and bioelectronic medicine. He is the author of Fatal Sequence (Dana Press) and more than 320 scientific papers.