Humanities program helps med students and professionals find balance through creativity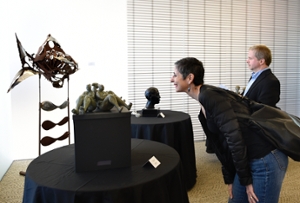 Participants enjoy a sculpture exhibit and other creative works at Narrateur release event.
Hempstead, NY—The fifth issue of the Hofstra Northwell School of Medicine's literary journal Narrateur: Reflections on Caring was released on Thurs., June 9 at 5 p.m. at an event hosted at the School of Medicine that featured artwork, music, and select readings by faculty and students, including contributions from employees of Northwell Health and Hofstra University.
The event also included reflections from guest speaker, Paul Gross, MD, editor-in-chief of Pulse: Voices from the Heart of Medicine and an expansive sculpture exhibit put on display by clinical associate professor of ophthalmology and chief of the glaucoma service at Northwell Health, Arnold Prywes, MD, whose piece entitled, "On the Ball," beautifully dons the front cover of Narrateur's newest edition. (Visit photo slideshow [right] to view Narrateur cover, artwork and event footage.)
"Sculpting has helped me to be a more complete physician," Dr. Prywes said of the cathartic nature of creativity.  "The peace that is with me when I sculpt follows me when I care for patients."
Each year, Narrateur prints a select collection of fiction, non-fiction, poetry, and artwork, including photography, illustration, and sculpture—all exceptional creations done by medical students, doctors, and professionals from many areas of medical practice.  Published by the School of Medicine and Northwell Health, the journal stands as a symbol of the institutions' collaborative commitment to creative expression, contemplation, compassion and respect for the patient-physician relationship.
The fifth issue of Narrateur Issue features nearly 70 works of art and literature.
"Learning how to listen and communicate about the relationships created in tending to the sick is a critical way to share knowledge and insight," said Jamie Talan, Narrateur editor-in-chief and assistant professor of science education at the School of Medicine. "The art and literary journal proves this value over and over again."
Narrateur is an integral part of the School of Medicine's Humanities in Medicine program, one of many unique drivers of the school's curriculum, alongside the basic and clinical sciences, that offers experiences designed to help students-in-training as well as healthcare professionals to develop the broad perspective necessary to understand the true impact of illness on patients' lives, while providing an outlet for self-expression, conscious reflection, and creativity.
Open to students, faculty and staff of the School of Medicine, Northwell Health and Hofstra University, Humanities in Medicine activities include a Medicine in Theater Group for aspiring playwrights and performers, a writers' forum for scribes of all genres, and a Healer's Art program, created to inspire students and faculty to trust the power of listening and focus on clarifying, strengthening, and making a personal commitment to medicine as their life's work.
"By encouraging healthcare professionals to pursue their interests and passions in the arts," explained Lisa Martin, JD, coordinator of the Humanities in Medicine program, "we assist these individuals in finding and maintaining the essential balance necessary to be their best selves, both professionally and personally."
The Humanities in Medicine program also houses the Osler Society of the Hofstra Northwell School of Medicine which is dedicated to promoting the humanities among healthcare professionals. A program that welcomes all faculty, students and staff of the School of Medicine and its affiliated entities, Osler Society programming is provided free of charge and is open to the public.
"Physicians, doctors-in-training, nurses and health professionals who care for patients each day grapple with decisions that must be made, reactions to those decisions, and the outcomes," said dean for medical education, David Battinelli, MD, at the event. "Narrateur and our humanities programming give a voice to the challenges of patient care and serves as an outlet for self reflection."
For more information about Narrateur and the Humanities in Medicine Program at the Hofstra Northwell School of Medicine, visit medicine.hofstra.edu.