The Fifth Annual Advancing Women in Science and Medicine (AWSM) Awards Breakfast is Held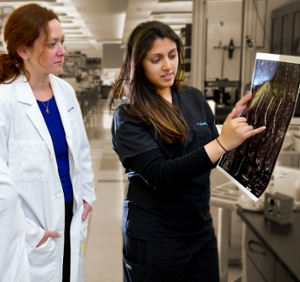 MANHASSET, NY – An organization of female scientists, Advancing Women in Science and Medicine (AWSM), recently hosted its fifth annual awards breakfast in recognition of the numerous scientific accomplishments of female scientists at The Feinstein Institute for Medical Research and across Northwell Health. Scientists, educators, business and community leaders from throughout the region attended the event to celebrate and support excellence and achievements of women in science.
To watch a video about AWSM and this event, click here.
"Is it commonly known that women are underrepresented in STEM careers and unconscious bias along with institutional practices can contribute to this issue," said Nadeen Chahine, PhD (photo, far left), associate investigator of the Feinstein Institute and president of AWSM. "AWSM is targeting these factors – it's an experiment five years in the making – and it's working."
AWSM was created in an effort to advance the career opportunities and career satisfaction of female scientists at the Feinstein Institute. AWSM is comprised of female faculty members who lead programs in basic, translational and clinical research. The four core initiatives of AWSM are in the areas of career development, recognition, advocacy and education, and networking, and mentoring.
"As a result of AWSM's efforts, 90 percent of women share and collaborate internally and with scientists at other universities.  Even though women make up 40 percent of the Feinstein Institute's scientific faculty, they bring in 50 percent of extramural funding. That's an accomplishment that we are proud of," said Dr. Chahine, who also serves as associate professor of molecular medicine, neurosurgery, and orthopedic surgery at Hofstra Northwell School of Medicine.
During AWSM's recent annual breakfast, donors contributed nearly $120,000 for awards that were distributed to female scientists at all professional or training levels – a full list of recipients can be found here. Each award, ranging from $1,500 to $25,000, recognized scientific excellence, innovation, mentorship, education and/or training.
Jennifer Doudna, PhD, investigator at Howard Hughes Medical Institute and the Li Ka Shing Chancellor's Chair in Biomedical and Health Sciences, professor of molecular and cell biology, and professor of chemistry at University of California Berkeley, spoke at the event and was awarded the 2016 AWSM Award for Excellence. The award was conferred in recognition of her outstanding achievements in science, namely the discovery of CRISPR-Cas9 and her impact on genome engineering – a timely, important and potentially controversial topic.
Awards and support were also provided to two members of the Girl Scouts of Nassau County, Each will receive research training as summer interns at the Feinstein Institute and a $2,000 scholarship funded by supporters of AWSM.