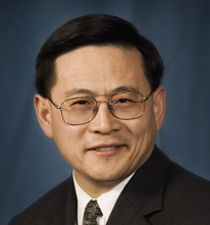 Dr. Ping Wang, founder of Therasource, receives $3 million grant to develop nuclear disaster mitigator.

MANHASSET, NY – The Feinstein Institute for Medical Research and TheraSource LLC, a Long Island-based biotech company, announced today that TheraSource has received a $3 million three-year Small Business Innovation Research (SBIR) grant from the National Institute of Allergy and Infectious Diseases (NIAID), which is part of the National Institutes of Health (NIH). The grant will support the development of human ghrelin as an innovative treatment to alleviate health damage caused by unintentional radiation exposure.
The worldwide progressive increase in the use of nuclear power has increased the risk of radiation exposure to civilian populations after natural and technical accidents, as evidenced by exposures in Chernobyl, Ukraine and Fukushima, Japan. Furthermore, international terrorism and geopolitical instability pose a growing threat of radiation exposure through radioactive devices and nuclear weapons. Nonetheless, no treatment has been approved to counter the often fatal gastrointestinal disease caused by higher doses of radiation.  Thus, there is an urgent, unmet medical need for an effective therapy to treat victims of severe acute radiation injury.
Ping Wang, MD, founder of TheraSource and Chief of Scientific Officer (CSO) of the Feinstein Institute and professor of surgery and molecular medicine at Hofstra Northwell, discovered that administration of human ghrelin, a 28-amino acid peptide hormone, significantly increased the survival rate and reduced the weight loss of animal models exposed to irradiation.  Human ghrelin is mainly produced by cells in the stomach and has been found to control a number of physiological activities, from food intake and energy metabolism to gut-integrity and cell death.
"One of our missions at the Feinstein Institute is to transition our lab discoveries onto the path of commercialization," said Kevin J. Tracey, MD, president and CEO of the Feinstein Institute. "TheraSource is an example of how we have successfully done this."
Weng-Lang Yang, PhD, CSO of TheraSource and principal investigator of the study, will work to determine the dose modification factor of human ghrelin for evaluating its efficacy in treating acute radiation syndrome. He and his team will also examine human ghrelin's effect on attenuating damage to the bone marrow and to the gastrointestinal tract. Dr. Yang's team consulted with Stony Brook University in the development of business and technology strategy for TheraSource and will collaborate with University of Maryland to conduct some studies under the SBIR grant.
"The Phase II award for TheraSource is a significant landmark for the company and an important milestone for the region" said Diane Fabel of the Center for Biotechnology at Stony Brook University, an Empire State Development Division of Science Technology & Innovation Designated Center for Advanced Technology. "The Center for Biotechnology is proud to have played an integral role in the helping the company advance their business and technology strategy."
"Human ghrelin has been investigated in clinical trials of other indications.  With our new findings, we will soon be able to file an Investigational New Drug application to US Food and Drug Administration," said Dr. Wang. "TheraSource has received investments to fund its various projects and is seeking strategic partnerships towards the goal of clinical development and commercialization."
In parallel with radiation mitigation, TheraSource has other promising projects in its pipeline being developed to target kidney injury, inflammatory bowel disease, and sepsis.