Including a Bioethics Discussion of What it Means to Be Human
The Osler Society Medicine in Theater in Group of the Hofstra Northwell School of Medicine presented Scenes from Frankenstein on January, 25, 2016, followed by bioethics panel discussion on what it means to be human led by Avner Hershlag, MD, Chief of the Center for Human Reproduction at Northwell Health (photo, left).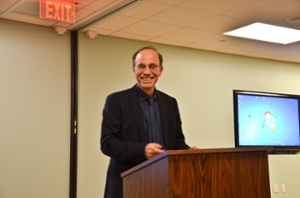 The program also featured a poster exhibit provided by the US National Library of Medicine entitled, "Frankenstein: Penetrating the Secrets of Nature".
Based on the famous novel by Mary Shelley, Scenes from Frankensteinwas the first performance by the Medicine in Theater Group, a company comprised of medical students, faculty, and healthcare professionals with an interest in the performing arts.  A group of ten actors for the inaugural production included Hoftra Northwell faculty, Fred Smith, MD, Assistant Professor of Medicine, and Alex Williamson, MD, Assistant Professor of Pathology and Laboratory Medicine, as well as first- through fourth-year medical students: Shadae Beale, Iosif Davidov, Jenna Drummond, Michael Jin, Andrew Lelin also a bioethics panelists, Tyler Lopachin, Christine Park, and Justin Pereira.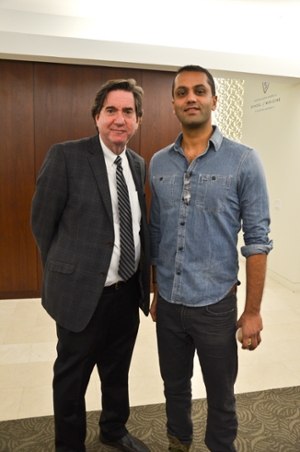 The play also included the artfully experienced guidance of producer Burt Rochelson, MD, Professor of Obstetrics and Gynecology (photo right, pictured left); set/audio design by Justin Rosati (MS4), technical direction by Lisa Martin, JD, Coordinator, Humanities in Medicine; and direction by Ankur Parikh, MD, Assistant Professor of Radiology (photo right, pictured right).
"Obviously, all of us are on tight, varied schedules, so the biggest challenge was finding practice time," said Dr. Parikh, a radiologist in the emergency department at Northwell's North Shore University Hospital and aspiring playwright. "But we're all passionate about performance and we made it work."
First-year student, Jin, agrees. "It's a terrific outlet in which to explore creativity," said Jin. "I really appreciate the opportunity to merge my studies with interests outside of medicine."
The Frankenstein performance merged seamlessly into a bioethics talk moderated by Dr. Hershlag, Professor of Obstetrics and Gynecology at Hofstra Northwell, who was joined by a panel of third and fourth-year medical student panelists: Brad Faliks, Lelin, Paul Masi, and Marina Reppucci. Organized as a question-answer discussion that encouraged audience participation, Dr. Hershlag and panelists examined the permeating social, medical and philosophical issues raised by the student-faculty performance and Shelly's novel. Topics ranged from the basic principles of life to medical advances that challenge our traditional understanding of humanity.
For more information about the Osler Society, including activities and upcoming events in the humanities, visit Humanities in Medicine Program at Hofstra Northwell School of Medicine.